Oak Creek Homes – Your Ultimate Dream Home Destination
Welcome to Oak Creek Homes, where we are dedicated to turning homeownership dreams into reality, one home at a time. In this article, we will delve into the undeniable advantages of owning a manufactured home versus a traditional site-built home, and why Oak Creek Homes stands out as the ultimate choice for your dream home. We've been in the manufactured housing industry for more than 50 years. If you are seeking a home that offers exceptional quality, affordability, faster move-in times, energy efficiency, and weather readiness, look no further.
Unbeatable Affordability – Elevating Your Lifestyle
Discover the unmatched affordability of Oak Creek manufactured homes. According to the latest data from the Texas Manufactured Housing Institute, our manufactured homes cost up to 46% less per square foot compared to site-built homes. This substantial cost advantage allows you to enjoy more space, amenities, and modern luxuries without exceeding your budget. Customize your dream home without straining your finances.
Here's what Brittany, one of our satisfied customers, has to say: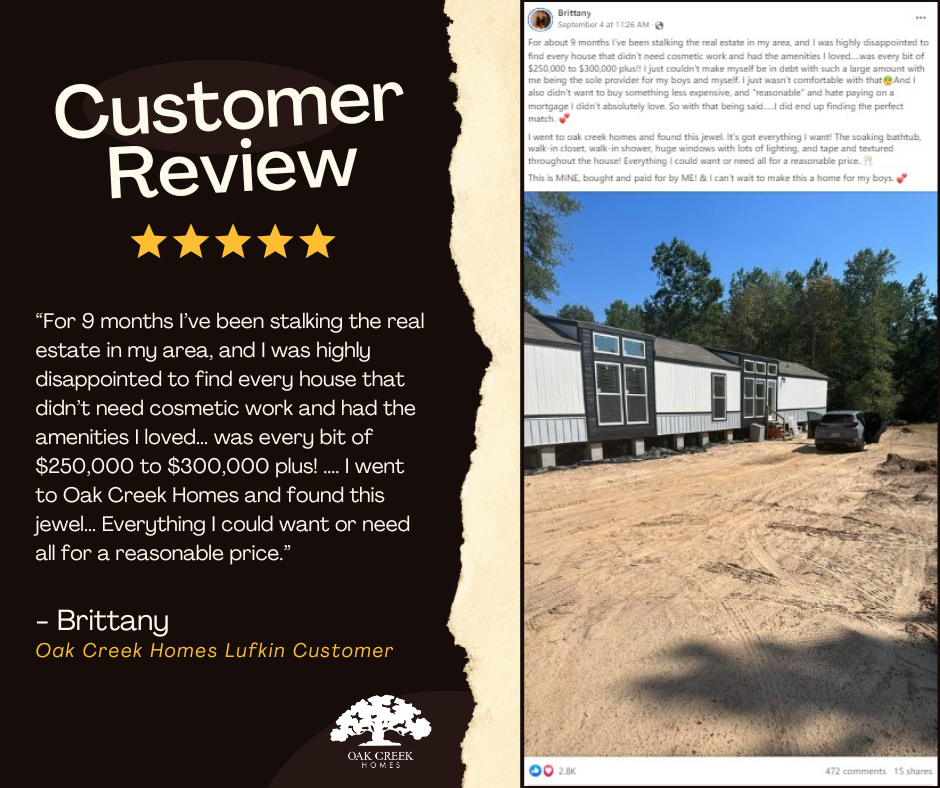 Faster Move-In Times – Your Dream Home Awaits
Time is of the essence, and at Oak Creek Homes, we understand your eagerness to settle into your dream home. Our manufacturing process ensures that your home is completed 30% to 60% faster than a traditional site-built home. Bid farewell to lengthy waiting times and relish the satisfaction of stepping into your new home in record time. Experience the seamless journey to homeownership with Oak Creek manufactured homes.
Exceptional Quality and Safety Standards – Crafted for Perfection
At Oak Creek Homes, we prioritize crafting homes that stand the test of time. Our manufactured homes adhere to stringent federal construction and safety standards set by the U.S. Department of Housing and Urban Development (HUD). From design and structural integrity to energy efficiency and fire safety, every facet of our homes is meticulously designed to exceed industry standards. Rest assured that your Oak Creek manufactured home symbolizes unwavering quality and enduring durability.
Customization at Your Fingertips – Tailor Your Ideal Home
Your home should reflect your unique vision and lifestyle. At Oak Creek Homes, we empower you with an array of floor plans and design options for customization. Whether you desire an open-concept layout, a gourmet kitchen, or a cozy retreat, our manufactured homes serve as the canvas for your dreams to come to life. Your vision becomes a reality with Oak Creek Homes, making every moment in your personalized sanctuary truly special.
Energy Efficiency and Heavy-Duty Construction – Paving the Way to a Sustainable Future
Embrace sustainability and energy efficiency with Oak Creek manufactured homes. Many of our homes are ENERGY STAR® certified, aligning with stringent energy efficiency guidelines set by the U.S. Environmental Protection Agency (EPA). Opting for an energy-efficient home not only reduces your carbon footprint but also leads to substantial utility bill savings. Our homes feature heavier construction compared to our competitors, incorporating more steel, lumber, and materials. These sturdy heavy homes provide enhanced insulation and weather resistance, further contributing to sustainability and peace of mind.
Oak Creek Homes – Your Weather-Ready Sanctuary
Residing in Texas entails facing diverse weather challenges, but Oak Creek Homes has you covered. Our manufactured homes are builtstrong, and engineered to endure all weather conditions, ensuring your family's safety and comfort.
Our homes are constructed within a controlled factory environment, shielding materials from adverse weather conditions. We employ top-quality construction materials, including a 50-year warranty on Smart Panel siding. This engineered wood can withstand impacts, freeze/thaw cycles, and high humidity. Our weather-ready manufactured homes stand strong even against the most severe Texas-sized storms. We proudly partner with NOAA and other agencies as a Weather-Ready Nation Ambassador, helping prepare the nation for extreme weather conditions. Choose an Oak Creek manufactured home for a secure and reliable sanctuary for your family.
Experience Affordable Luxury – Your Dream, Your Way
At Oak Creek Homes, we believe that luxury should be accessible to all. Our manufactured homes feature meticulous craftsmanship and attention to detail, bringing affordable luxury within reach. From elegant finishes to modern amenities, we create spaces that elevate your living experience, providing the perfect blend of opulence and practicality. Standard affordable luxury features can include kitchen sharing islands, walk-in pantries, beverage bars, built-in entertainment centers, spacious walk-in tile showers, soaker tubs, walk-in closets, built-in desks, mudrooms, and covered porches, just to name a few.
Explore Our Customer Stories
Still uncertain? Discover the satisfaction of Oak Creek manufactured homes through our customer stories. Hear firsthand experiences from delighted homeowners who chose Oak Creek Homes. Join the ranks of families who have unlocked the Oak Creek difference.
Your Dream Home Awaits at Oak Creek Homes
In conclusion, when considering your ideal home, choose the unmatched advantages of Oak Creek manufactured homes. Experience unbeatable affordability, faster move-in times, exceptional quality, and energy efficiency, all while knowing your home is weather-ready to protect your family through any storm.
Uncover the Oak Creek Homes difference today. Visit OakCreekHomes.com to explore our extensive selection of homes and take the first step toward owning the home you've always envisioned. Elevate your living with Oak Creek manufactured homes, the epitome of affordable luxury and weather-ready living. Your dream home awaits – begin the journey with Oak Creek Homes."
Contact Us
Have additional questions or ready to tour an Oak Creek Home in person? Please fill out the form below and let us know how we can best help you.
Educational Resources
Check out our Complete Manufactured Home Buying Guide.
Oak Creek Homes offers a diverse selection of over 100 floorplans to suit various styles, tastes, and budgets. We can deliver to Texas, Oklahoma, Louisiana, and parts of New Mexico, bringing quality homes and exceptional living experiences to families across the region.