As a kid, we quickly learned that we could customize a home built with LEGO® Bricks, Lincoln Logs, and even decorate a Barbie® Dreamhouse just like we wanted it! But can you build a custom manufactured home? The simple answer is yes. Oak Creek Homes understands that details, features, and design options make a difference. This is why we not only offer a variety of floorplans that come with standard luxury home features but also offer customization options for select homes so that you can design your own mobile home to your preference.  Our mission is to personalize your home shopping experience so that your dream home is made specific to your needs.
Design Your Own Manufactured Home
You may be surprised to find that there are opportunities to customize a manufactured home to your liking, but the reality is that the dynamics of manufactured homes are changing every day. Oak Creek is prepared to assist in building your dream home from beginning to end. With over one hundred different customization options to choose from – the outcomes are endless. From modern farmhouse to coastal looks, be in control of your home's aesthetic. Check out our Design Center.
Floor Plans
Deciding the perfect floorplan is typically where our customers start when picking out a home. The floorplan provides an exact layout of the home's interior, and some may consider this one of the most important factors. If you are not in love with the floor plan, you may easily eliminate the home from your list of options right off the bat. Oak Creek has tackled this issue by designing almost every floor plan imaginable for a mobile home which can be viewed at oakcreekhomes.com. We offer a variety of modular home floor plans as well. Though we're confident in our selections, small (HUD-approved) changes in the floorplan are made possible in select homes. Each floor plan dictates what luxury features or amenities are included that you can design to your own style, taste, and colors.
Kitchen Options
The kitchen is often considered the heart of the home where families can gather after a long day. Those who enjoy cooking will need a functional and appealing place to prepare their meals. Cabinet finishes and sizes are one of many custom features that can be picked by you! We can also provide large farmhouse sinks and countertops of your choice. With over 20 kitchen options, we are sure our designers can arrange a kitchen to suit your needs. Choose your favorite backsplashes and kitchen islands and allow us to shape your kitchen into a space you'll never want to leave.
Living Rooms
Whether you're hosting a Super Bowl party or a sleepover for the kids, the living area is an essential piece to making your house a home. Oak Creek values the importance of family and offers many living room options to best fit your needs. A few homes even offer two living spaces for our customers with larger families. A few more customization options include built-in entertainment centers, ceiling beams, and fireplaces to help bring your custom-made mobile home together.
Designing The Exterior of Your Own Manufactured Home
With the exterior portion of your home being the first thing people will see, some may want to start here in the customization process. Oak Creek provides a variety of architectural themes for our customers to choose from. One is the exterior color of the home. Our designers can assist in picking the perfect color for your style and environment. The siding of the home and dormers are also important elements that can assist in upgrading your home and set it apart from other homes nearby.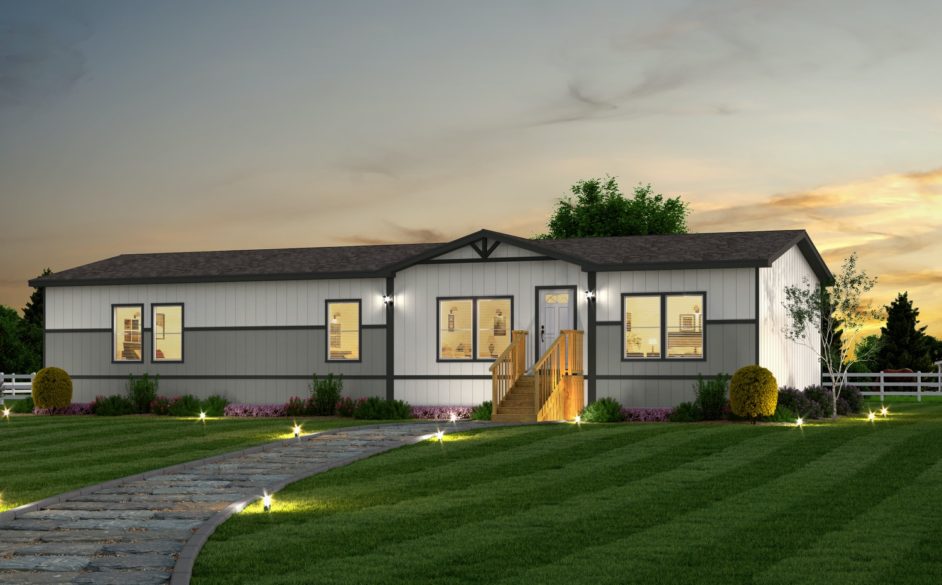 Color
In the past, you may find that the colors of manufactured homes have been somewhat similar in range. Oak Creek made it a point to change that by offering an array of colors to choose from. If you want to set your home apart from the rest, the color will certainly make a statement. See Ft. Worth color and design choices for manufactured homes and modular homes built out of that factory. Check out Lancaster color and design choices for prefabricated manufactured homes built out of that factory. Please note that some decor and color choices may be subject to change due to COVID-related material shortages.
Porch
Porches symbolize the spirit of America and can bring a home together. Several Oak Creek homes include porches, and the options are plentiful. The first is a covered wraparound porch, which offers plenty of space for socializing and family bonding. If you are more interested in using your porch to relax and enjoy your morning coffee, a porch swing may be exactly what you need. In addition, back porches can be built on select homes for those who want or need the extra space.
Roof and Siding
The roofing and siding of a home are both very important details in designing your custom-built mobile home. Get the look you want starting with hardboard siding. Hardboard siding is not only decorative but also is a great way to protect your home from bad weather. Oak Creek Homes uses this treated engineered wood siding product because it is stronger, more durable, and stable than vinyl siding and other inferior siding productions. This quality material holds up to tough weather conditions. It resists twisting, warping, and cupping. There are other distinctive features to consider including chalet-style dormers, radiant barrier roof decking, even metal roofing. No matter your request, Oak Creek makes customizing your manufactured home's exterior all about fitting your personal style.
Now that you've gotten an opportunity to learn about Oak Creek's customization options, it's time to begin the process of designing your new custom home. First on your list of things to do is choosing a floor plan. Just like when you were a kid building with LEGO® Bricks or Lincoln Logs, deciding on your floor plan's design is the first piece to designing your dream home.  Check out our large selection of homes, we offer over 100-floor plans here. Once you've done some window shopping online we encourage you to see our homes in person along with all your design options.
Contact us to Schedule a Visit or Tour
Ready to schedule a tour? Or have questions? Let us know, we'd be happy to talk with you. We can also help with financing and finding land for your custom manufactured home. Land and home packages are available.
Other Educational Resources
Just starting the manufactured home buying journey? Download these handy checklists. They'll start you off on the right path.
You can buy any of our top-selling single-wide or double-wide homes at your nearest Oak Creek Home Center. We deliver to Texas, Oklahoma, Louisiana, and parts of New Mexico. Manufactured home builder Oak Creek Homes has been building manufactured houses and modular homes for over 50 years.